Welcome to another post people.
Today, I've got a new Anime to recommend. Yes, this will blow your stress away.
Doukyonin wa Hiza, Tokidoki, Atama no Ue, or My roommate is a Cat, 

This is a comedy, slice of life, anime series that is ongoing right now.
Plot?
An introvert novelist who doesn't like to connect with anyone and would prefer being alone meets a cat while visiting his parents' cemetery. He gets inspiration for his new book from the cat and so, decides to adopt it.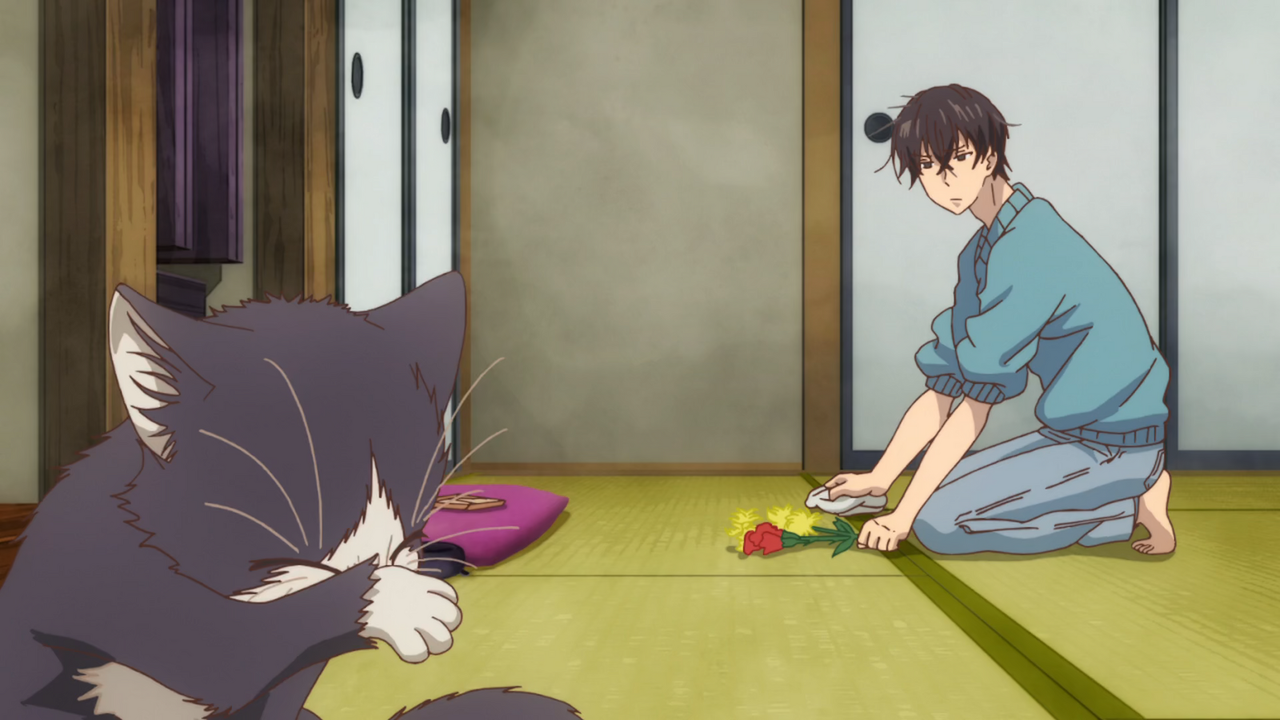 With a new cat adopted, the novelist's introvert lifestyle expands as he learns to depend/learn from each other. He meets new people and slowly gets out of his introvert bubble. Soon, this cat becomes his pet as he learns how to take care of it.
My thoughts on this Anime:
First, whether you are a pet lover or not, this anime will make you fall in love with pets, specifically cats, if I say so.
Second, the shy novelist, Mikazuki Subaru shuts himself away from everyone and doesn't appreciate the people who take an effort to care about him. However, as living with his new pet cat, his perspective changes and slowly he begins to allow people in his life.
Third, and most importantly, the cat.
You get it right, isn't she beautiful as well as cool. Subaru names her as Haru.
A little bit about Haru:
Haru has a family of its own and lives on the street. She works hard to get food for his younger siblings. One day, they all get separated and Haru ended up being adopted by Subaru. The anime focuses no only on Mikazuki Subaru's life-changing moments but also about Haru. So far, there are only 8 episodes screened.
And so, as we move on to each episode, there's a new discovery. This anime perfectly describes the joy of connecting with people and animals. Both the protagonists, Subaru and Haru have had their opinions but, once they start to know about each other, their view changes as they start to care and depend upon each other.
It's a beautiful stress-free anime series. You guys should take some time off to watch it.
A definitely relaxing anime that is worth spending the time to watch.
Why you should watch this anime?
You get both the perspective, Haru the cat and Subaru the human
The cat is pretty and cute
Slice of life anime that is hilarious
Good concept
Great Characters
Good character development
Impressive animation
Guys, don't miss out this show. To me, I think this anime deserves more. Because it's underrated right now. But, I'm not going to let that happen. [lol]
As a fan, I'm going to share this good anime. I mean a GOOD anime is hard these days.
After watching this anime, I feel like I should adopt a cat. Guys, I'm always a dog person and don't really prefer cats. But watching this anime changed my point of view. I can understand about cats from this anime and I'm considering to adopt one in the future. Because, animals need love and care too, just like us, humans.
With that being said, go check out the anime. You can find the link to watch the anime below:
https://www4.gogoanime.tv/category/doukyonin-wa-hiza-tokidoki-atama-no-ue
Trust me, you will love this anime as you watch it. Until next time, with another topic, Bye Bye.