Welcome to the World of Webtoon – MY Giant Nerd Boyfriend
Hey guys, can I get some drum roll, please: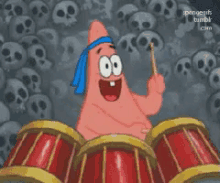 Thanks, I appreciate it.
So, people, I am starting a new series called 'Welcome to the world of Webtoon' where I introduce and share my thoughts about the various webtoon comics I have enjoyed.
Most of you might be already an expert and a vivid webtoon reader, but if so, then we can talk and share about the comics, maybe have a discussion our favorite ships. However, to my other friends who don't know what I'm talking about, let me say this:
You are in for the greatest adventure!!!
So, in this series, as I mentioned, I will be introducing the comics only from Webtoon's platform. I also use various other apps to read comics which will be in another series. For now, let's focus on this global platform that allows the artist to publish their work.
A little bit about the Line Webtoon –
'Naver Webtoon' originated from Korea, received a lot of global recognition and hence they released a globalized version of 'Naver Webtoon' called the LINE Webtoon. Currently, LINE Webtoon is the largest digital platform for publishing comics.
Another thing about Webtoon –
There's something called 'DISCOVER' in the Line Webtoon platform.
Now, Discover is the official starting point for any comic artist to publish their original work. Once their comic receive a huge audience and a lot of readers, the particular comic will get featured on the Webtoon's page.
Discover acts as the entry point for the artist, and later if their comic succeeds in receiving a lot of recognition and support, it will get featured on the main Webtoon's page. Hence, the comic on the Webtoon's page was all originated from Discover, just like the name.
And guess what?
READERS: What?
Me: lol!!!
It's FREE you guys. The app is free, and you can read all the comic for FREE!!!
With that being said: let me start with the VERY FIRST WEBTOON COMIC that I read and fell in love with it:
See them?
Yeah, 'My Giant Nerd Boyfriend' a slice of life comedy featuring the artist's daily lifestyle with her 'literally' giant boyfriend.
I started with this comic and instantly fell in love with its art style, the concept of the 'slice of life' based on their own lives, and finally the reality. The comic did already feature on the Webtoon page because of its rising popularity amongst the comic readers and growing fans. At that time, the comic had around 126 episodes and I binge-read the comic all day to complete up until the recent update.
The comic creator, called 'fishball' and her gentle, kind and loving giant boyfriend, and their lifestyle together. Let me say this, it's funny, beautiful, loving, and sweetest stories that you'll ever read. Apart from being the 'slice of life' based comic style, the creator 'fishball' also talks about 'how they met?' 'their families' and so on. Other than the funny episodes about giant boyfriend and fishball, you also get to know about personal sides.
Wanna know how they met? getting curious? why don't you read it for yourself?
https://www.webtoons.com/en/slice-of-life/my-giant-nerd-boyfriend/024-how-we-met/viewer?title_no=958&episode_no=24
Getting more curious? Loving this comic?
https://www.webtoons.com/en/slice-of-life/my-giant-nerd-boyfriend/list?title_no=958
My opinion of this comic:
The first thing that I felt while reading this comic is about the creator's original art style, her genuine way of story-telling, and her sense of humor.
Guys, I'm not joking. I can assure you there is no one person can hate this comic. The humor's awesome and will crack you. You will find yourself smiling and tearing up while reading this webtoon comic. Also, their relationship will bring you enlightenment.
#realrelationshipgoals
The way they care for each other and respect each other will move you emotionally. Because a couple like them, you won't find a lot nowadays. Although it's about the creator's point of view about living with her giant boyfriend, you will adore the giant boyfriend more than fishball herself. The giant boyfriend is our hero, a gentleman, and a great person. Just from reading, I could feel it that they are perfect for each other.
As an Asian, I could relate to a lot of things that fishball talks. So, it's super relatable for me, and I loved every single episode that I keep re-reading them whenever I feel down or sad.
Overall, the best slice of life comic that will bring you real happiness and love.
https://www.webtoons.com/en/slice-of-life/my-giant-nerd-boyfriend/list?title_no=958
That is the official page on the Webtoon, make sure to check it out, right now!!!
Now for a little stat about this comic:
The comic has a rating of 9.73
It has about 15.6 Million likes
With more than 250 episodes, the comic updates on every Monday, Wednesday, and Friday.
Join in the fun ride with Fishball and enjoy reading her comic.
With this, the series will go on with every new comic that I will be sharing here.
Until next time with another awesome comic, bye bye!!!