Yes. Because we have a lot of major "Next Seasons" to catch up in the year 2019. Without any further adieu let's dive in:
So, this list of anime releases in 2019 is all about from my point of view, which means that the anime series I loved watching. You can say, it's kind of like #mylist of most anticipated anime releases in the year 2019.
To start off, I didn't know that they have it like "Winter release" and "Spring release" in the anime world. Whatever!!! But here's the list of Anime series, in no particular order, that gets another season in the year 2019:
HAIKYUU SEASON 4:
I know, right? Well, the announcement came towards the end of the year, but Hell, yeah!!!
Let me say this: I stan HAIKYUU, so hard, and so religiously. One of the best Sports Anime series – in terms of storywise and the animation style. It is just one good anime that you just can't hate.
Well, last year marked as my beginning journey towards 'watching anime series' and HAIKYUU  happened to be THE ONE. And I died from its awesomeness storyline and great animation style.
And if you're going to say that 'I haven't watched Haikyuu', then…
There were a lot of sports animes that gets released but it's hard to make a strong presence and get recognized like Slam Dunk, Prince of Tennis, Kuroko no Basket, etc. Slam Dunk, in fact, is often called the best anime of all time and increased 'Basketball' popularity in Japan. Now, when Haikyuu got released, it made a huge impact and a lot of fans loved the anime series so much. The MANGA  is still going on. However, the anime has only three seasons, which already rocked the anime world.
For those who already watched this show…
Yes, yes, yes, and a big yes. I feel you. We all do guys. We just defeated the powerhouse school and we have some special training which our boys Kageyama and Tsukishima are going to attend. If you're also updated with the Manga, you know what's going to happen. Regardless, we all wanted to see and watch the action via anime, right? So, the moment they announced we'll be getting season 4 for Haikyuu, I freaked out so hard.
P.s Although, I'm hyped about the new season, it is only getting released on September 2019 and that is freaking galaxies away. *cries out while running away*
Let's enjoy the new season and support the creator and the anime together. #iwannawriteanarticleonHAIKYUU #infuturemaybe #justbeforenewseasonrelease
ATTACK ON TITAN SEASON 3 PART 2:
That was just me when I heard the title said "PART 2". So, it wasn't a new season???
Well, the realistic anime 'ATTACK ON TITAN' is getting PART 2 of season 3. Yes, now that I think where we left…
Yes, we were on a mission to capture Wall Maria. This globally famed anime series was too huge for the fans. Because of it's, you know, realistic storyline. I mean, not literally, but the storyline of mankind falling down and apart seemed too real. Plus, the show itself is dark and kind of doesn't hide anything [we're talking about the action/killing scenes, please refrain from any inappropriate thoughts]
So, we're waiting for our team to go rock and kill the huge titans and retake Wall Maria, which will be considered to be mankind's greatest victory against Titans so far. With the help of our very own, Eren the coordinate aka the attack titan, we have a lot of action scenes. Plus, a lot of fans[who read the manga] were buzzing about how the upcoming episodes will shock the anime watchers. Well, BRING IT ON, baby.
The anime is getting released on April 2019 – Hallelujah!!!
MY HERO ACADEMIA SEASON 4: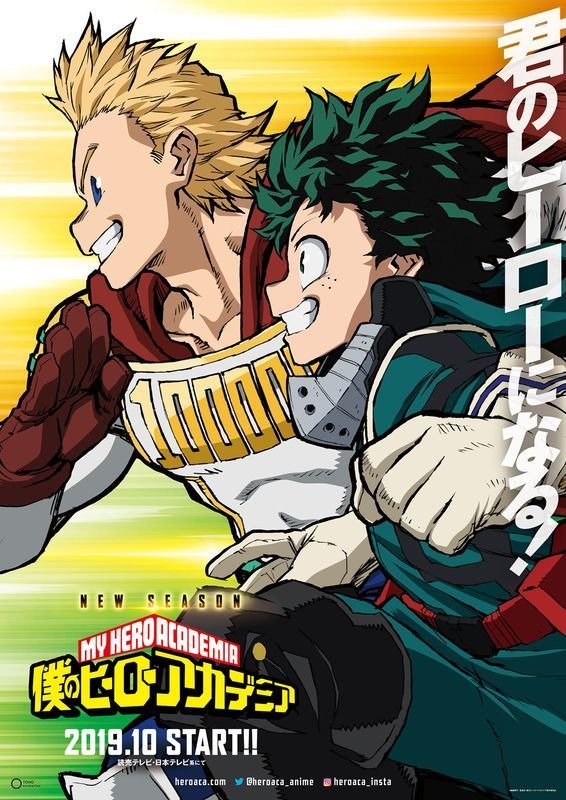 Let us not panic, team. Yeah, I heard you brother. A lot of villains are gathering underground, that evil girl was disguised as one of the hero student [remember!!!] and now ALL MIGHT… is no more. Oops, I mean he has retired. So, it's all up to our hero Deku aka midoriya. What will he do? Oh, don't worry, now that our kacchan and Deku had become proper rivals, they will save each other's ass. We've got the hero students, crazy support course girl with her cool babies[#loveher], and our boy Bakugo.
I think, from my view, that Deku will train with his seniors at the hero academy. We saw the almighty Mirio Togata, who impressed as well as shocked our hero team. So, everyone will gear up and the villains will prepare themselves underground. Finally, the last few episodes will be major war-off between our hero team vs villain team. I don't know guys, I haven't read the Manga. And yes I have been seeing those "Recommended for you" suggestions on YouTube related to Todoroki's brothers and so on.
Deep Breath…
Ok. So, we're getting a new season and hope to see Deku master his 'ONE FOR ALL' and discover a lot of potential from it. Let's see if Todoroki has a brother or not!!!
ONE PUNCH MAN SEASON 2: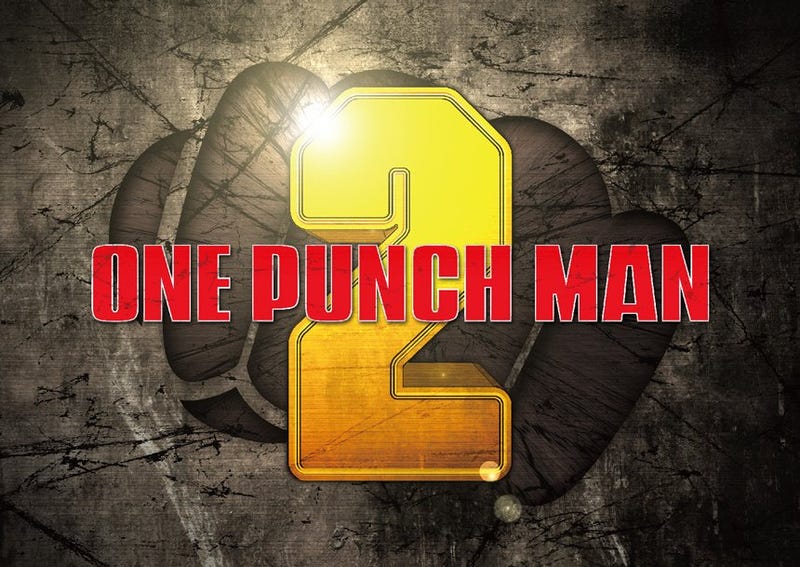 To be honest guys, I just finished 'One punch man' season 1 today. I started yesterday which was 31st December 2018 and today January 1, 2019, I finished the season 1.
Sorry guys, I know it was a hype show and everybody was watching it and sharing those gifs…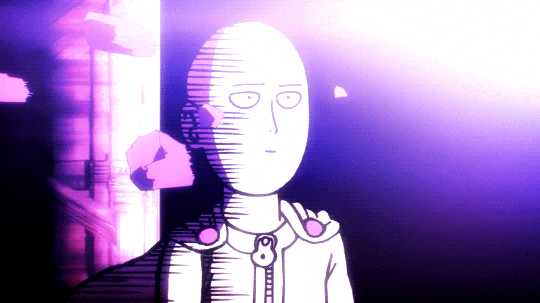 Here's the deal, I started two months back and saw the first episode. Loved it. Great, a guy who defeats his opponent with just one punch. Love it. And, I kinda left it at the first episode itself. I apologize to show's fans. I should have completed it back then.
But, I feel it's okay. Because my New year 2019 celebration went with ONE PUNCH MAN. I feel complete.
Back to the season 2 announcement, I'm waiting for it eagerly. Wait, I wanna write an article about it. Okay, done. I'm doing it. Since I want to share my view of this show. Stay tuned.
As said, the season 2 is said to get released on April 2019. Again, hallelujah!!!
3D KANOJO: REAL GIRL –
We stan a good shoujo rom-com anime show. This anime is romantic, funny and had that 'shoujo along with tsundere' kind of vibe to it. I seriously like this show and in fact…
I haven't watched the last episode yet. I'm sorry you guys, I don't like the cliffhangers and I hate it. I will watch it. Anyhow, I am happy that we get another season for this show. I want to know what happens between the main protagonists. Plus, there could be possible second couples we can get. Well, I'm in and interested in this show. It is said that the show's second season is getting released in January 2019. WHAAAT?
Moving on…
FRUITS BASKET:
Yes. Fruits Basket is getting a new look with its new animation that will cover the Manga entirely. So, hurray!!!
I watched the old version, oh no, will it become like Taylor Swift? the old Taylor can't come to the phone right now. Why? Cause she's dead. Nah…
I liked the old version too, but the anime didn't really cover the manga properly. When I heard that Tohru Honda and Kyo Sohma end up together, I screamed out loud. Literally!!!
Well, it's kind of obvious that Kyo and Tohru had a lot of chemistry than Tohru had with Yuki. But, the old version of Fruits Basket didn't cover that up. Out of all the new anime release announcement, this was the first one I discovered/heard. I was overwhelmed and felt genuinely happy. We all deserve a good anime that follows the manga religiously. So, let's all love and support the new version whilst also accepting and remembering the old version. Let's be honest, the old one is the original which served us a good anime.
Can't wait for it.
And the final one was a huge shock to me. No, it was more like a Bonus for me. Again, I watched a lot of anime towards the end of 2018. So, here we go:
YURI ON ICE MOVIE: ICE ADOLESCENCE –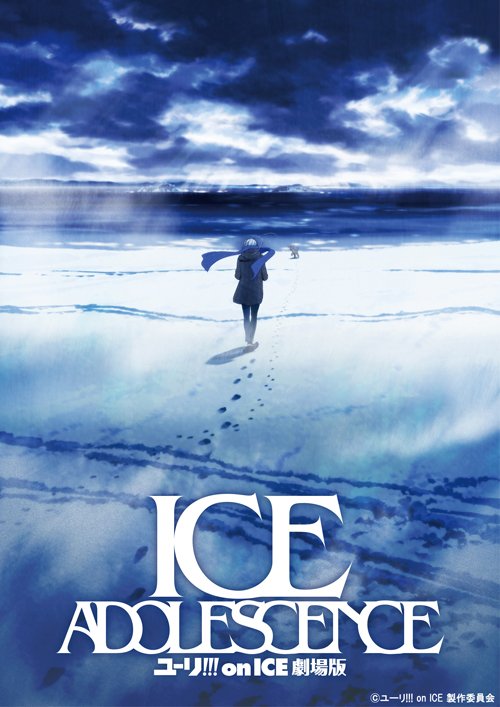 I started and finished YURI ON ICE, when? probably two weeks back. Again, I know the hype and the attention the show got. I did download it and saved it. More like, I wanted to cherish it later. But, no, I gave it right in the middle of nowhere. One fine day, when I was about to actually sleep, I thought…
What if I watch YURI ON ICE now???
And it happened. Oh, Victor and Yuri…. oh the History Maker, oh the 'On regards to Love: Agape'…
Yes, the show killed me. I loved it and finished it in a day. So, I did a research about the show 'to know if there's any manga' so that I can catch up with the updates *winks*. Well, no, the show was an original anime and is not adapted from a manga. What should I do?
Wait. Patiently wait.
So, the other day, as I was browsing on the internet about YURI ON ICE, I discovered that a YURI ON ICE MOVIE is going to get released in 2019. Damn it!!! Not a season but a movie!!!
Alright, I'm in. The trailer showcased Victor and his pet dog. Fans are buzzing that the movie would focus on Victor, probably his past before becoming the living legend of Ice skating.
Whatever it is. If its YURI ON ICE, I'm in. BRING IT ON!!!
That's the list.
Well, these are the shows that I am devoted to. A lot of anime shows are coming out in 2019. Show your support and love. Maybe even recommend me if there's something that I shouldn't miss out. I will watch it. We stan for a good anime forever.
I hope we all get some good gravy this year and get more hyped.
A lot of this shows could be your favorite too, so make sure to check it out and get updated. And I will make sure to start and finish an anime at one stretch and not drop out in the middle. I know!!! *Don't give me that Judging look.*
we're also going to get the WANO ARC of ONE PIECE soon…
#cantwaitanymore #onepiecefanforever #wanoarc #letskillayonko #ripkaido2019
Alright, see you later guys. Make sure to show some support by commenting. And let me know which anime release are you expecting so eagerly.
Until next time with another topic, ByE bYe.