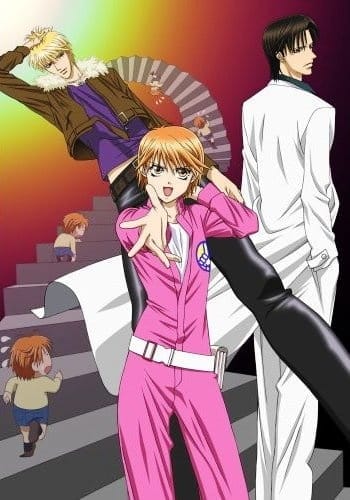 Wanna know about how actors life works? Celebrities, glamour, fame and a name.
Ever wondered how actors live their life or how a newbie actor gain the stardom?
What's an audition process for a movie role?
Competition, Jealousy, Selfishness, Passion, Work – bring in all emotions and face the tough life ahead before you receive the fame.
Skip beat is one such anime about the entertainment world. We all notice the glamorous life that every celebrity actor or singer leads. But is that it? No……
The process of going through an audition to get the role as a newbie actor. The process of getting into a character and bringing out its essence through acting.
Well, I ranted a lot about Skip beat. Let's move on to the real talk.
Here's the theoretical trailer about Skip Beat:
How was that? Funny, dramatic and emotional right?
To begin with, let us learn about the Skip Beat world.
The Plot –
To enjoy the storyline clearly, I would like to categorize it into two parts and three main characters.
Let me introduce the three main characters of this series (Strictly following anime)
1. Kyoko Mogami
2. Fuwa Sho
3. Tsurga Ren
Character introduction:
Kyoko Mogami:
A 16-yr old girl who was completely devoted to her childhood friend whom she admires and loves deeply from her heart. Upon his betrayal, she enters the show business to take revenge on him.
Kyoko is our typical girl who loves makeup, having a lot of girlfriends to talk and have fun and finally having fantasies about fairies, magical kingdom, and such things. Kyoko is a very active girl and is well versed in Japanese tradition. A very hard-worker with persistent nature. Once she sets her heart, she gets it done by all means. I mean in a good and honest way and not the evil kind. So that's our main MC.
Fuwa Sho: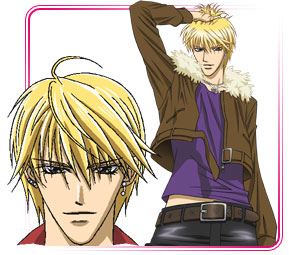 The idol and hottest trending artist in the music industry. Despite his behavior towards Kyoko, which is cold and ignorant, Sho is serious towards his music and is extremely talented in it. He used Kyoko to fulfill his dream of becoming an idol. He is also seen flirting with a lot of girls, making their heart flutter and stuff like that. Fuwa Sho is the second guy, next to Tsuruga Ren in the list of top 10 celebrities in all of Japan. Plus, Sho holds grudge against Tusuruga Ren, who's in the No. 1 position. He wanted to beat him and become the top No. 1 star of Japan. 
Tsuruga Ren: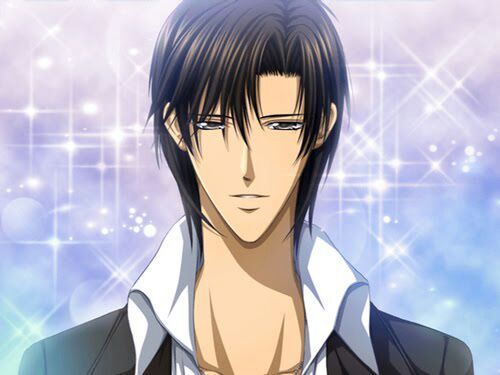 The top actor and the number 1 celebrity in Japan, Ren. The hottest guy who's known all over the country and even to the international level. He is known as a very professional actor who considers acting as a serious business. His commitment towards acting is well respected and feared among the industry. He is also the man of guts, who's capable of insulting anyone who's a disgrace to this field. His professionalism and seriousness in acting are often known to bring out the best from his opponent too. He can bring out the best acting from his acting partner but, it only happens if the partner is also dedicated to acting. He doesn't mind doing a lot of retakes even if his partner makes mistake. Kind, helping, passionate and polite person. A total pro – Tsuruga Ren.
Part 1:
Fuwa sho and Kyoko:
Let me say this, Fuwa sho is a big idol in Japan. He is currently the top and hottest in the music industry with a lot of fans especially being females.
Fuwa and Kyoko were childhood friends. Kyoko was basically raised by Fuwa sho's family who owns the traditional Japanese Inn. Sho's parents basically taught her everything in order to make her their restaurant's next heir. On the other hand, Sho dreamed of becoming an idol. This resulted in Fuwa Sho and Kyoko running away from their home to Tokyo together.
Kyoko, who was in love with Sho sacrificed all her desires and dream to help Sho achieve his goal. Thus, Fuwa Sho became an idol and one of the top best. His talent exploded and attracted a lot of fans especially female ones. Kyoko and Sho lived together where she imagined that Sho was also interested in her. However, it turned out to be that Sho only used her as a maid and never thought of her as a special someone. When getting caught and confronted, Sho teases her and humiliates her existence. Fuwa sho also told her that if she's looking for a revenge against him, then she has to enter show business to do it, which might not happen to Kyoko. Upon with vengeance, Kyoko vowes him on a revenge where she herself will enter showbusiness and will knock the hell out of him. Sho continues to mock her thoughts and made fun of her ideas. But that didn't stop Kyoko, she was only motivated further to destroy his pride and fame completely.
She plans to join the agency that is rival to Fuwa sho so that her revenge will be complete and perfect. Hence, she decides to join LME Agency which is said to be the TOP notch and the one that produces top actors in the industry and, also acts as a rival to Akatoki Agency which manages Fuwa Sho.
Part 2:
Kyoko and Ren
Kyoko after a great struggle joins LME agency as a "Love Me" section's first member. "Love Me", is a section specifically created by the LME president Lory Takarada. This section is for people who are capable and talented, however, miss the most important feeling in this world, LOVE. So, basically, it is all about various tasks and earning points by doing those tasks with love and affection. Kyoko who was possessed by revenge locked all of her affections and the feeling of LOVE. So yes, Kyoko is suited perfectly for this section. It was also shown that the president Lory was really concerned about her and her past life. He also believes that she might turn out to be a great star in future if she's nurtured properly.
Tsuruga Ren is considered to be a top professional actor in all of Japan. He is an actor from LME agency and a strong opponent for Fuwa Sho. But during her times with Sho, she also hated Ren who was being Sho's opponent. However, when encountered with him during the application process, she felt that the hatred she felt towards Tsuruga Ren was all for sho and not needed now. So the hatred she had turned to a great respect towards a senior professional actor at the agency. Although she entered LME for her revenge, she later found acting to be her own thing. Ren was initially unhappy with Kyoko joining showbusiness for revenge. However, he gradually accepts her as an actor who's got the potential to become a professional. Kyoko, on the other hand, works hard to prove Ren that she is not focused on revenge but to become a professional actor like himself.
Kyoko works hard in every task as a Love me member. during all those tasks, she was mocked, teased and even challenged sometimes for being in a lame section called "Love Me". During those times Kyoko accepts the challenge and executes a perfect act. Her skills are seemed to be on par with pros, but she lacked the education and technicalities. FOr which, later she gets enrolled in acting school for her training. Seeing her improvement and focus, Ren acknowledges her as an actor and starts to trust her. This is shown clearly when Kyoko initially ran away from the shooting to figure out her character completely. It was Ren who confronted the director to believe in her and that she will return with an answer.
Ren also develops feelings for Kyoko gradually but hides it within himself. Maybe in future chapters of the Manga version, Ren, and Kyoko might discover their feelings and start dating.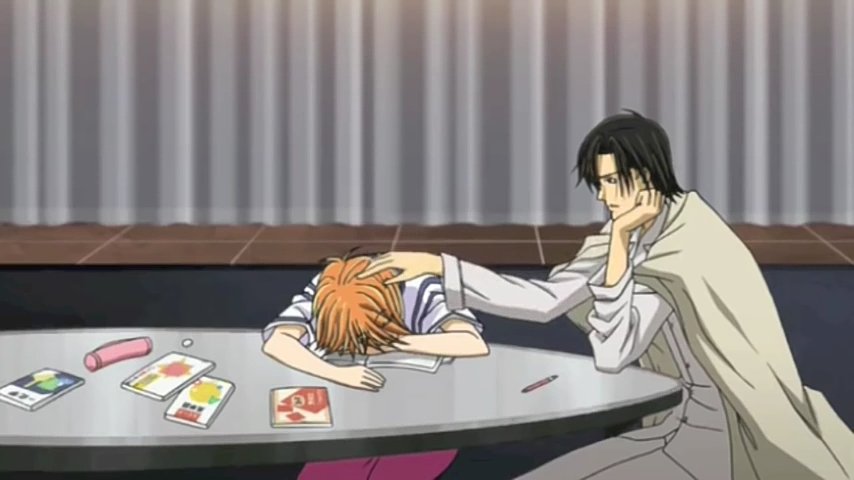 So these are the two parts. The girl who was heartbroken joins showbusiness to take revenge. she meets the famous top actor in the agency and soon her mind gets distracted from revenge. She considers acting as her own talent and trains to develop her skills in it. Because of her strong personality and an unshown past relationship, Ren slowly falls in love with her. He hides his feelings knowing that Kyoko was heartbroken by Fuwa and that she still hates the idea of LOVE.
The series comprises of 25 episodes. Although the manga is still going on, fans are requesting for another season.
Now, let move onto some of my favorite things about the show:
Kyoko's apparitions:
These are Kyoko's demons. These vengeful demon spirits are always with Kyoko. They are unleashed when Fuwa Sho gets caught cheating on her. Usually, these demons are used according to Kyoko's advantage, which is mostly scaring people off and making them agree to her and so.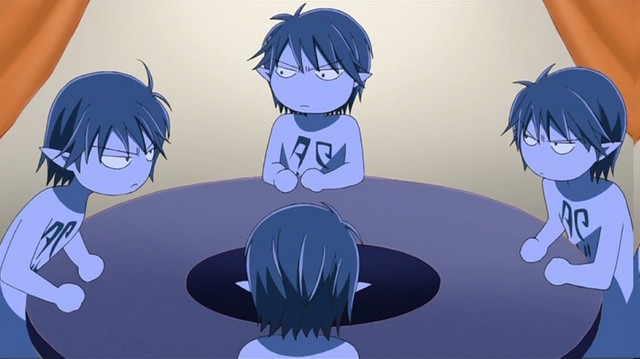 These are my favorite moments straight up. Whenever they are released, they make the best moment. It was said that, when Kyoko realized that she was being cheated by Sho, her pandora box was opened which released hate along with these demons. They are the main reason why she was recruited as the Number 1 Love Me member by the president. Here's a live example:
Manager Yukihito Yashiro:
The so-called "Yashiro-san", Tsuruga Ren's manager. (spoiler alert- he will be Kyoko's manager in future) Yashiro-san's reactions are priceless. He will be the first person to notice that Ren has special feelings for Kyoko and that he's clueless about it. He often confronts Ren by teasing him or by breaking Ren's phone with his bare hands, I mean bare hands. Other than being a super manager, Yashiro-san is an underground wingman for Ren, often finding excuses or chances to let Ren spend time alone with Kyoko. Let's not forget the time when Yashiro-san was sick, he requested Kyoko to be Ren's temporary manager. Come on, where else can you find the best wingman.  #loveforyashirosan
Kanae Kotonami aka Moko-san:
Kanae kotonami is Kyoko's first female friend and the Number 2 Love me member. Kanae was shown as an exceptional actor with the greatest potential but unfortunately, she never had the chance to express her passionate acting performance. She applies for LME's audition and gets selected through the final stage. However, she was deduced that during her final exam that she expressed no emotions from her heart. All her expressions and talent are only for the desire to become an actress. Thus, making her the No. 2 member of the LOVE ME section. Initially, Kotonami avoids Kyoko and thinks of her as a rival secretly, since Kyoko was able to deliver extraordinary performances, like the one during their first commercial gig. It was at the end of their commercial audition that Kotonami considered Kyoko as a true friend and her life savior.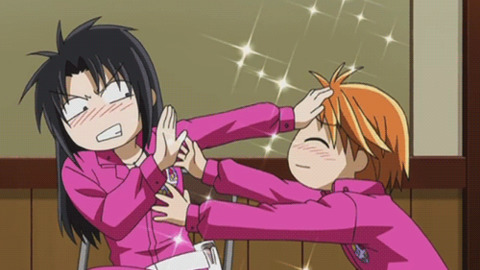 Now Kotonami is helping Kyoko with her acting and also they truly care for each other. However, still, Kotonami avoids showing her affection publicly. Anyways, love this power combo. #friendshipgoals
LME President Lory Takarada: 
The flamboyant, extravagant, luxurious, ostentatious, dashing, lively, and confident. Did I leave anything, nope. Yes, the president of LME Lory Takarada, the liveliest man in the agency who's entrance is always ostentatious. However, as luxurious as he seems, Lory takes care of his artists with great care. Also, he makes sure that they are pushed out of their limits and come out of the shell to realize their true potential. This is seen when Ren was selected to act a particular role, president Lory challenged him if he can surpass his potential and bring out the best. If not, Ren must leave the cast. So, you get him right? the big shot president who's feared but also admired by everyone. #bossgoals
Those were my favorite characters and some funny moment which you have seen it as pictures. The anime was fresh and based on a new concept which is about actors and their world. I have seen a lot of fans begging for a new season on various social media platforms, including myself. We can only hope for it. Because the manga is still "going on" and we had a lot of great moments of Kyoko and Ren, and even Fuwa Sho. The new characters, new challenges, new emotions all made manga really good. I believe if they make the second season, the show will be definitely a hit. 
However, I recommend you all to read the manga version compulsorily. Because it is easily one of those manga comics which you can get hooked on in an instant. I have added the link below for the manga readers, check it out:
https://mangarock.com/manga/mrs-serie-229278
SKip beat was one of those series that I watched initially and fell in love with anime in general. This is definitely in my top list of romantic comedy anime series.
This will be definitely a rocking yet hilarious anime series you can ever find. A true gem. Enjoy it. 
Until another time with another topic, bYe bYe.