Hey fellas, today I have kinds of an announcement.
This year 2019, started off very well for the Anime world community, I believe. Yes, today I would like to announce about this new Anime series that has been buzzing around the world.
The Promised Neverland
If you haven't heard about it, do search it immediately. I mean trust me, you would be completely captivated by this anime show. As usual, there's also Manga available to read for all those 'can't wait for anime episodes, I'll go ahead and read the Manga directly' people.
First and foremost, the anime is about a group of kids in this 'so-called' orphanage living together with all love and fun. And the main protagonists Emma, Norman, and Ray are the smartest kids amongst all. One day, Emma and Norman discover that it isn't normal orphanage but actually a place to raise kids and turn them food for monsters. After discovering the horrifying truth, Emma and Norman plan to escape the place with other kids. 
That's the plot. 
So far, there are only two episodes released. But the impact of this anime is definitely seen around the anime community. The very first episode itself sets the tone of the anime show firmly.
A crisp, clean plot with adorable characters. I'm telling you guys, this is a must watch show, highly recommended. As I said in the title, the promised neverland is definitely a promising anime series of 2019. We're gonna be shocked and terrified with this series. There's gonna be struggles, sacrifices, and a lot of pain. However, let us hope that the 'freedom' these kids strive will be achieved. 
I'm really hooked up with this series. I will do a clear review and my thoughts about the show once it's completed.
Apart from this, the show's background score is absolutely engaging. The characters, guys, I can't even. Alright, the show features mainly kids. we're talking about little kids. I think the eldest one is 11 years old, as per Emma. So, all of these kids are adorable, beautiful and really precious.
As an audience, after watching the first episode, I'm really afraid that another one of these cute kids is going to become food for those terrible monsters. Let's see. But from the storyline point of view, this is a crazy clean script, which is one of its kind material.
Guys, don't even get me started on those 'so-called' 'mom'. I can't if I have to talk about them now, I'd probably enter into the anime world and kill those witches for doing such a cruel job. How are they even sleeping at night? Anyhow, let's wait and see what is actually going on and why are the nuns working for the monsters. I'm sure there's gonna be a backstory to reveal all the beginning. Nevertheless, I can't really forgive these 'moms'.
With that being said, Oh I actually have one last thing: isn't Emma look like Hinata from Haikyuu. So cute and adorable.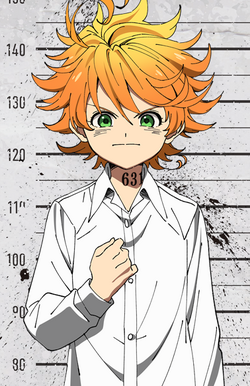 They look so similar to me. Except that they are a completely different gender. But, their attitude is kinda same, cheerful and happy-go yet daring and athletic. Fighting for the good.
I find these kids so cute and happy. However, all I'm now is with fear. Fear that the kids will survive and escape this horror.
If you want to watch the anime, click the link below:
https://www5.gogoanime.in/category/yakusoku-no-neverland
I'm being impatient so I might go and read the Manga. But, we all strive for the anime, don't we?
Give a lot of support and love for the show and the creator.
Until next time with another topic, Bye Bye.